How Fidelizer Works
Fidelizer is very simple tool to use. You just have to choose optimization level, click "Fidelize", sit back and listen to good music. You can also choose Customize to pick individual optimizations by yourself to find the optimal point with other optimizations. Fidelizer could do the following functions below.
You can choose any options you want freely because Fidelizer doesn't make permanent changes to system. All changes will be reverted back to normal after system restart. So you can give it a try without taking any risks at all. There's no chance to put system in harm.
Let's see how system works before applying Fidelizer optimizations. To make things simpler, we'll classify resource utilization to audio task and non-audio task. Based on Microsoft's Multimedia Class model, we'll treat non-audio tasks as System and Network, most systems would look like this.
We'll divide everything evenly for easier understanding. You can see that part of audio is one big speaker icon on top playing multimedia files, part of system is middle graph doing background services and other non-audio tasks, part network is bottom globe with computer on network doing some web browsing and streaming content jobs. After optimizations, your system could probably be Fidelized like this.
As you can see that audio will have more resource utilization after using Fidelizer and can improve further with higher optimization levels. You can learn more about each optimization level in details from reading User Guide including individual options and features from upgraded version. Isn't it great that you could improve Windows audio quality this much for free?
FOR FREE? REALLY?
Yes! You can get this for free with no trial because developer of this software wants to change the world of computer audio where most audiophiles pay for OS X audio software. The thought of OS X being best audiophile solution is unbearable while there's so many contributions to Windows side such as:
JPLAY – Ultimate Audio Output module for Windows
AudiophileOptimizer – The best way to turn most powerful Windows platform to dedicated audio server
Rewrite Data – Data storage optimization for reducing jitter by Bughead Emperor developer
And of course, Fidelizer too. They're made by truly passionate audiophiles.
Enjoy music with Fidelizer? Consider Fidelizer Upgrade Program
To further extending products and services, now Fidelizer can be upgraded to do more without limiting to not perform any changes to system at all.
Right now there's two version of upgraded Fidelizer, Plus and Pro. Based on Fidelizer Pro which is most advanced version, you'll get the following benefits over free version below.
Can choose whether to apply optimizations one-time or use startup optimizations.
Core optimizations are reworked for better audio performance and more flexibility to all kinds of audio playback.
System configuration can be applied with unique tweaks for better audio quality
Program UI has been reworked to be more friendly with computer audio server projects.
Optimizations will have improvements over time along with Windows and user feedback suggestion.
You can read individual product's features and order details from Fidelizer Upgrade Program page including pricing.
Is there some kind of way to test it, before buying it?
While it's understandable how some customers choose to evaluate test products before purchasing. However, we decided to focus on improving product quality and services without limiting features to test version. We don't favor the idea of making trial version of Fidelizer Plus/Pro with limited capabilities and it later becomes constraints to further improving software.
Developer put great effort in building good quality software for free. So if you trust in free version's performance being something worth paying for, you won't be disappointed in what Fidelizer Upgrade Program can offer you. You can read reviews and how other customers say about Fidelizer after upgrading and make up your mind later.
Reviews
Since moving Fidelizer to new home, there're requests sending for product review from a few respectable audiophile websites. Some are kind enough to give us a review about Fidelizer products as below.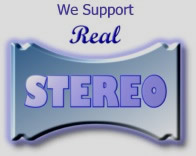 "Fidelizer resulted in the biggest single improvement to my hi-fi that I have yet encountered!"
– Nick Whetstone – (TNT-Audio)
What customers say about us
To ensure you'll receive good quality of products and services, I'd like to share what customers say after applying Fidelizer Upgrade Program. These are quoted from their feedback without changing any context so feel free to read it.
Hello,

A Fidelizer update is always great news for me. Since I use your program, the sound of my system has improved, enriched, expanded, the VERY BIG SOUND.

Thank you for your work, I am already looking forward to version 6.4.

Sincerely.
If you're using upgraded Fidelizer software and currently enjoying good music, please share your story with us. If you have any trouble using Fidelizer, please do not hesitate to contact us and resolve the problem together.